Anderson AE-Series Openers are designed with agronomic and environmental integrity - ensuring maximum potential yield.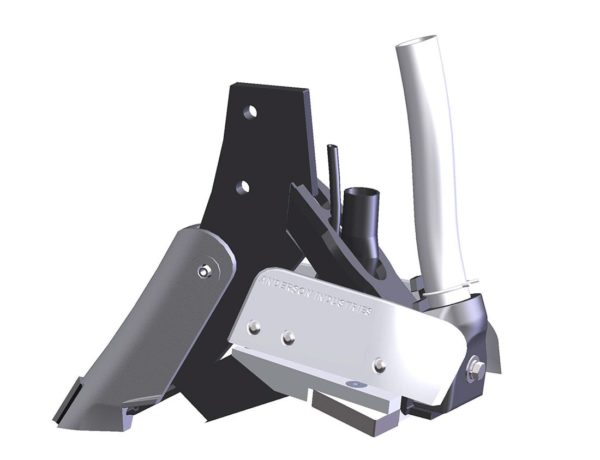 Anderson AE-Series Twin Row Openers features:
The AE-Series Twin Row Openers represents pioneering concepts and agronomic principles for single pass seeding/fertilizing for maximum potential yield. The openers longer point opens and loosens the soil underneath the seed sowing depth. This creates an essential aerobic seed environment. The fertilizer slot runs 2" below the seed plane, giving both excellent separation and optimum placement for nutrient uptake. Before the seed is placed in twin rows, the soil over the fertilizer layer is leveled and firmed by the consolidation plate. The seed is placed on a firm seedbed at the desired planting depth.
Proven design in cropping around the globe
Ribbon-style twin rows
Fertilizer band at 2" below seed rows
Streamlined design with poly sides for scouring wet soils
6 degree negative angle consolidation plate
No other twin/paired row opener assures TRUE separation of seed and deep banded fertilizer/nitrogen. The negative-angled consolidation plates on the Anderson Twin Row Openers closes and firms the deep band fertilizer trench prior to seed being placed. Seed cannot come in contact with or fall into the fertilizer/nitrogen band.
Advantages of the negative consolidation plate include:
Firmed soil for better seed to soil contact at packing
With the opener point digging 1.5-2" below seed row, moist soil is brought upward to the seed zone. By firming the soil with the consolidation plate, moisture is held in the seed zone for more rapid emergence of seedlings.
Ensures a distinct, even, accurate seeding depth. Rather than seed falling into loose soil as other openers, seed instead is laid on a firmed soil surface. Seed in loose soil tends to move at packing, creating uneven emergence and inconsistent seed depth.
Deep banded fertilizer placement based on root formation geometry for proper and maximum uptake by the plant.
Dual placement deep band options for liquid/NH3/dry granular.
Port for dry, liquid or NH3 fertilizer
Seed port for dry or liquid fertilizer
Mid row port for dry or liquid fertilizer
Plastic side shields reduce soil that sticks, even in wet conditions
Consolidation plate - levels and firms the soil at desired depth
Fertilizer is placed directly underneath the seed
Changeable coulter points - opens the soil and loosens the soil underneath the seed sowing depth for added root growth
AE Twin Row Opener Models
Twin Row Spacing
AE 15 Dry or NH3 or Liquid
7-7.5"
AE 12 Dry or NH3 or Liquid
6-6.5"
AE 10 NH3 or Liquid
5-5.5"
(Pending packer tire width)