If you had a tool to finish seeding 3-5 days early, would you use it?
The Anderson Industries Disc Leveler System is one simple enhancement to gain more acres per hour from your seeder!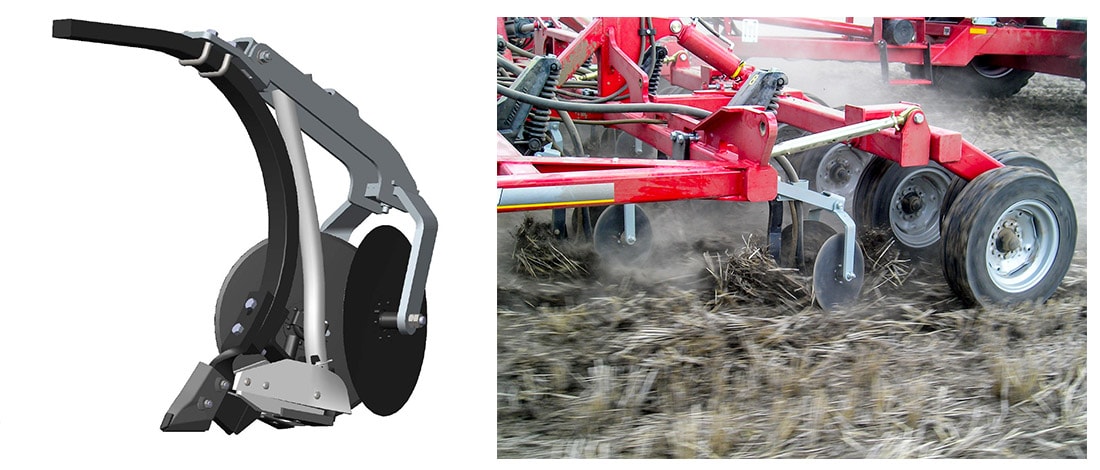 The Anderson Disc Leveler features:
The Anderson Industries Disc Leveler System is equipped for speed. Designed specifically to work with any opener system, the Disc Leveler mounts directly behind the shank of your air drill and closes the furrow immediately after your seed is dropped. This means your soil is moved back into place before it's packed. There's no stepping, just higher speeds and increased productivity.
EQUIPPED FOR SPEED
Increase speed of seeding by:
Controlling flow of soil back into the furrow
Control of soil flow at speeds above 4-5 mph
Not allowing soil flow to create a "steeping"effect
Excellent Seeding Quality with Increased Field Speed:
Controls soil flow and higher speeds to eliminate "stepping" effect
Soil flows evenly into seed rows, seed placed and remain and consistent depth
Soil flow directing into seed rows for maximum seed-to-soil contact at packing
Leaves level field finish
Increase productivity of your seeder without sacrificing seeding quality
Simple design, no adjusting:
Designed from years of experience in the field.
Angles pre-set for maximum performance
Designed for simple installation
Other adjustable levelers lead to wasted time and hours of tinker
Simple design - no adjustments are needed
Rugged, proven and durable design
Zero maintenance
No down pressure mechanisms
Easy installation
Use Disc Levelers on:
John Deere
Bourgault
Concord
Flexi Coil
NH / CIH
Morris
Any C-Shank or Edge On type drill
Disc Leveler Applications:
Shank type air drills with a 10", 12" or greater shank spacing
Shank type fertilizer and anhydrous applicators for better sealing of furrows
SMOOTH FIELD FINISH
A smooth, even field isn't just about looking good. It's about protecting your investment. You work hard to keep the best soil on your field. The Disc Leveler System from Anderson Industries closes the furrow to make sure your soil is right where it needs to be - on top of your seed. This creates a more natural soil environment for your seed to emerge. The Disc Leveler System is essential for a proper, smooth field finish.
EXCELLENCE IN SEEDING PERFORMANCE
When combined with an opener, like the Anderson Industries Twin Row Openers, the Disc Leveler System keeps your seed tucked in tight to the soil. We call it sealing the envelope. A snug fit retains moisture and prevents fertilizer from evaporating. Combined with our opener system's fertilizing and reverse air drop functionality, the Disc Leveler completes the process and bundles each seed with the resources it needs to flourish.