Designed with agronomic and environmental integrity ensuring maximum potential yield. No other twin/paired row opener assures TRUE separation of seed and deep banded fertilizer/nitrogen. The negative-angled consolidation plates on the Anderson Twin Row Openers closes and firms the deep band fertilizer trench prior to seed being placed. Seed cannot come in contact with or fall into the fertilizer/nitrogen band.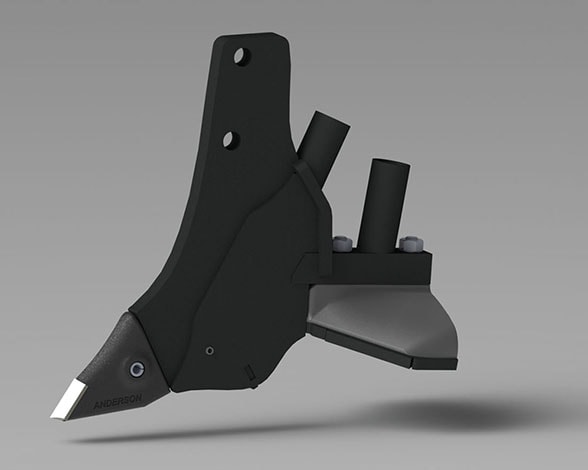 RE-Razor Twin Row Openers
The Razor RE-Series Twin Row Openers represent the agronomic integrity of the AE-Series along with a new generational style and form. The Razor features patented seed wing technology for perfect seed placement every time. As the seed drops, the shape of the wing guides the seed to the outermost part of the wing while a slight reverse drop keeps the seed in place. This ensures the even and consistent seed placement. The wing is constructed of high wear resistant plastic which also reduces soil buildup in wet conditions.
Advantages of the negative consolidation plate include:
Firmed soil for better seed to soil contact at packing.
With the opener point digging 1.5" below seed row, moist soil is brought upward to the seed zone. By firming the soil with the consolidation plate, moisture is held in the seed zone for more rapid emergence of seedlings.
Ensures a distinct, even, accurate seeding depth. Rather than seed falling into loose soil as other openers, seed instead is laid on a firmed soil surface. Seed in loose soil tends to move at packing, creating uneven emergence and inconsistent seed depth.
Deep banded fertilizer placement based on root formation geometry for proper and maximum uptake by the plant.
Yield advantage by protecting seeds from fertilizer trench and placing fertilizer at a proper geometry for maximum root uptake.
STREAMLINED DESIGN
Reduces draft
Minimizes soil disturbance
Accurate seed and fertilizer placement
Sleek design
Less surface disturbance
Distinct paired row of seed
Fertilizer band placement at 1.5" below seed rows
Simple maintenance 4 degree negative angle consolidation plate: draft advantage
STRONG MATERIALS
Heavy design adds durability
Design performs well in rocky conditions
Carbide leading edges and sealing plate are wear resistant and easy to replace
For use on:
Shank Spacing / Models
15" Shank Spacing - RE15 Razor *(consult your Anderson Opener specialist for correct configuration)
12" Shank Spacing - RE12 Razor
10" Shank Spacing - RE10 Razor
(all pending packer tire width)
Deep band fertilizer configurations:
Dry
Liquid/NH3
Dual - Dry & Liquid/NH3